About Views
A view is a dynamic identification tool for routinely finding students in need of intervention, support or celebration. Each view is a set of saved metric filters, such as attendance below 90 percent and greater than one suspension. A view can then be applied to the list of students shown on Our Students as a handy shortcut for applying multiple metrics filters in one click.
Views are dynamic lists of metric filters; they are NOT groups. This means that no students are attached to this type of list. For example, Andre appeared in a view with 90-92% attendance last week, but subsequently missed five days of school resulting in his attendance rate dropping to 88%. Thus, at the end of this week, Andre no longer shows up in this view. Instead, the view dynamically updates to show you which students are now meeting these criteria.
Schoolzilla administrators can share a view to align staff across your school system around common metric and thresholds for identifying students who may benefit from intervention strategies. Administrators can share views by role and school. Views do NOT alter which students you or anyone you've shared a view with are able to see in any way. Users will only be able to see the students they have access to based on teachers' enrollment rosters, manually uploaded rosters for teachers, and schools to which admins have given access to users with a school leader role.
---
What Are Some Examples for Using Views?
Example 1: Multiple At-Risk Indicators
Use a view to focus on a few key Attendance, Behavior and Course indicators essential for identifying students who are off-track for graduation. Education Northwest suggests that teams may want to begin with recommendations by national organizations and then continue to adjust the metrics to suit local practices and outcomes as needed. To get started, consider creating a view that shows:
Attendance: Less than or equal to 90%
Suspensions: Greater than or equal to 1
Course Failures: Greater than or equal to 1
You can also create a view tailored for Elementary grades that includes State Test ELA and Math performance, reading on grade level results or interim assessments outcomes, instead of course failures.
Example 2: Attendance Tiers
Attendance Works recommends establishing tiered approaches for promoting attendance.
Tier 2 Attendance: Create a view of students who have attendance between 81 and 90 percent attendance. These students may require personalized supports that go beyond general system- or school-wide attendance strategies.
Tier 3 Attendance: Create a view of students who have less than 81 percent attendance. These students may require significant intervention and possibly legal intervention.
---
What Is a Group? How Does This Differ From a View?
Users are now able to create Groups on Our Students.
A view is a set of metric filters and sort criteria. It does not have students associated with it, and the list of students shown dynamically changes to meet the criteria. Use views to identify students for intervention or support, or as a quick way to apply multiple metric filters.
A Group is a set of students. You may also opt to add group criteria — or metric outcomes — in order track the progress of an intervention and evaluate whether a group member meets or does not the criteria. If metric criteria have been set, Schoolzilla will "recommend" students who are not in the group, but who do meet the criteria.
We will send out more information and training resources about Groups soon.
---
How Do I Create a View?
Watch this brief tutorial:
---
How Do I Share a View?
Schoolzilla Administrators and School Leaders can share views with others by role and by school. You can share a view by creating a new view OR sharing an existing view in View Settings.
Create a New View
Step 1: Filter the metrics you would like to include in your view.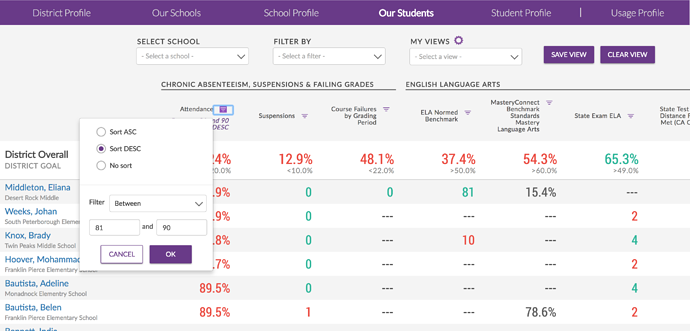 Step 2: Enter view information. Change Share Settings as desired. Once saved, the View Name will show up in a drop-down. The description will show up in View Settings.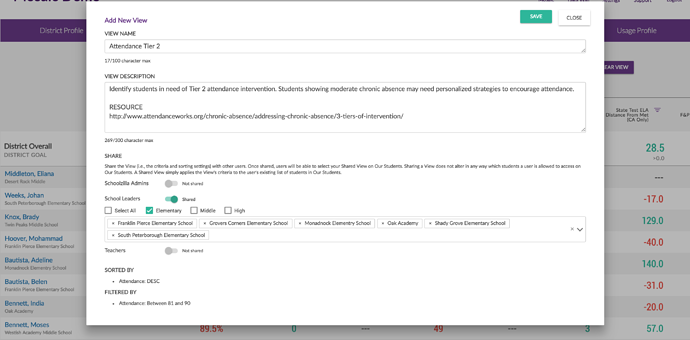 Share an Existing View
Step 1: On Our Students, select the settings icon next to My Views.

Step 2: Select the view you'd like to share.
Step 3: Change share settings.
Step 4: Save your changes.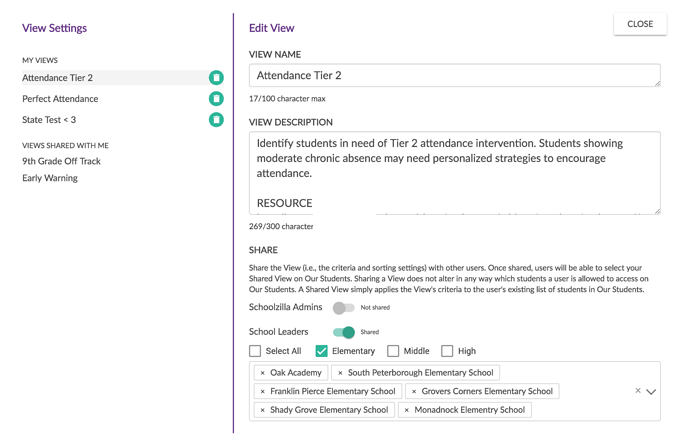 Here's what others you have shared the view with will see!
If a view has been shared with your role AND school, a Views Shared with Me category will appear in a drop-down menu. (If they have their own views, they will see a section for My Views as well.)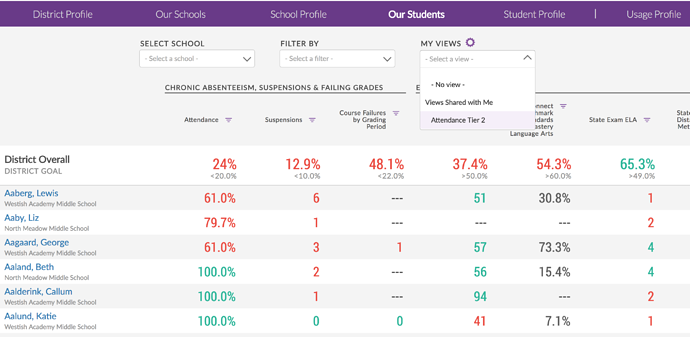 A header will appear on the left of the page, organizing the metrics in the view. Saved filter description and sorts will appear below the metric name.
When clicking on View Settings, others can select a view name and see information about that view.