Using the school settings is an easy way to add a school or edit information about an existing school on your dashboards. While we initially sync schools from your student information system, this is only done one-time during initial setup. After initial setup, your schools will be managed in My Schools so that you have the option to have a different set of schools in your SIS and on your Schoolzilla Dashboards.
Access "My Schools" from the Settings menu
Only users with the administrator role have access to "My Schools" on Schoolzilla. All changes and additions made will display in you Dashboards the next day.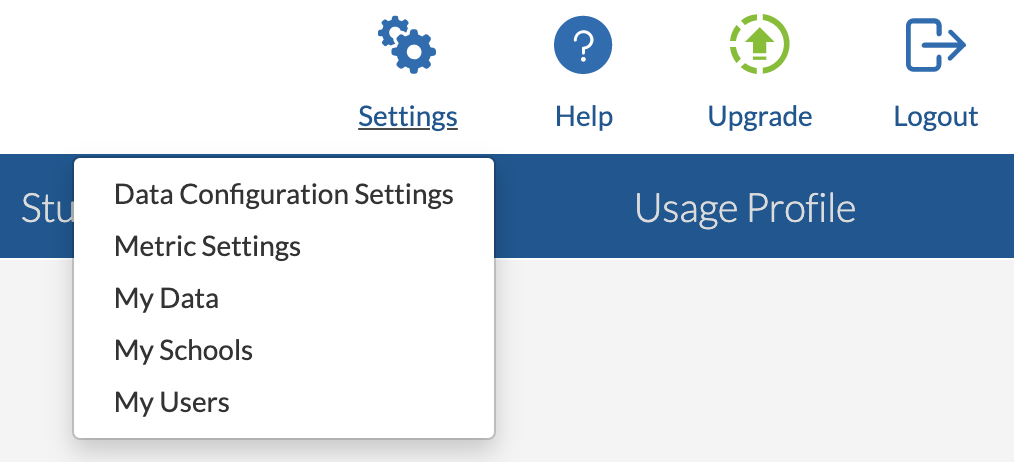 Adding a New School
You can add a new school by clicking on the New School button.

Fill in Required Information
Once you click on the button, you will be redirected to the page to add all the Required Information. These fields need to be filled in to proceed.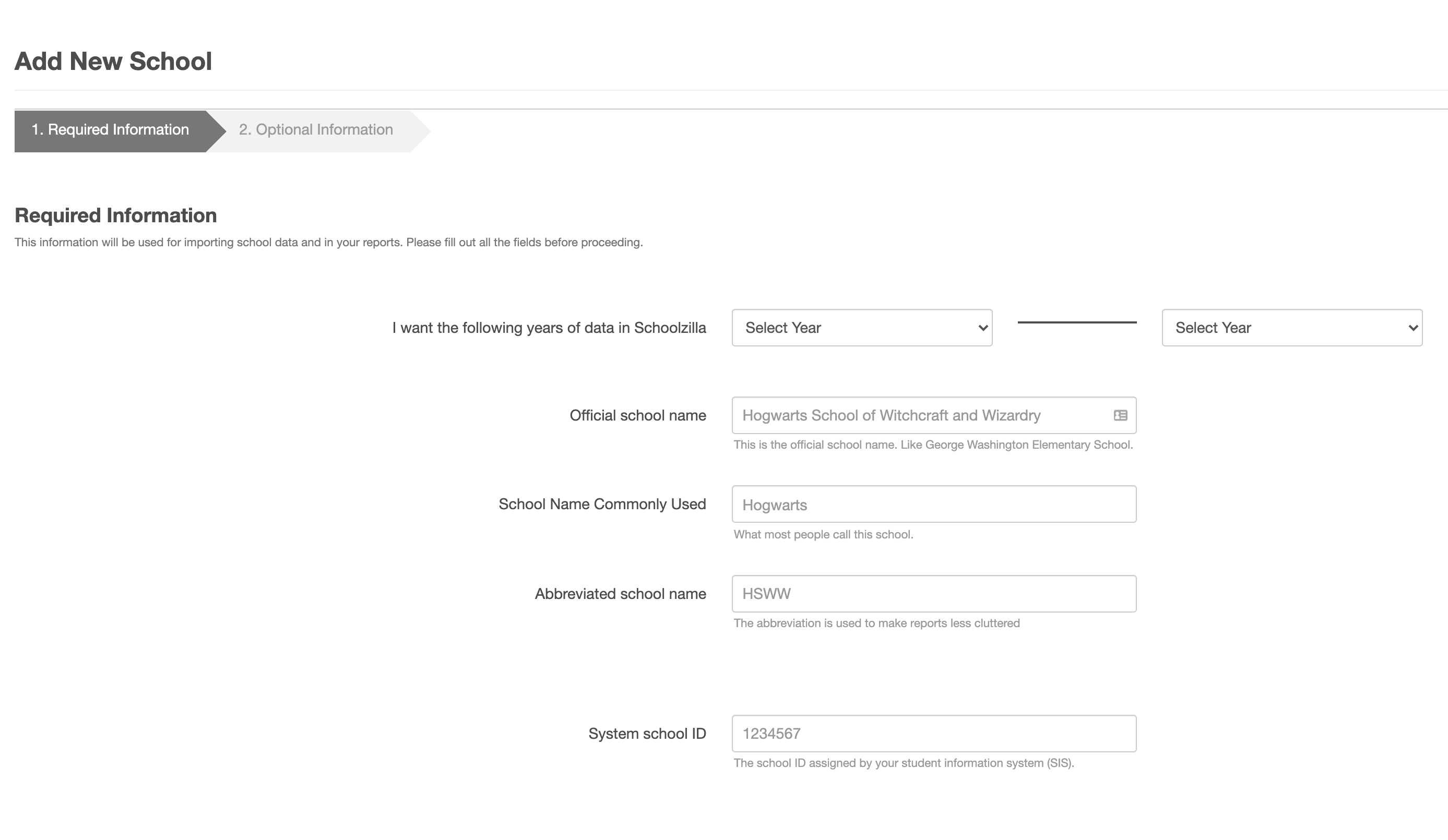 Fill in Optional Information
The next step is to fill in the Optional Information. At this time, this information is collected but not leveraged in Schoolzilla Dashboards so is optional to provide.
View the School Added
Once you add a school, you can view it in the table. For instance, in this case, we added "Schoolzilla High School". Notice that we have added the data to be pulled from 2006-2016.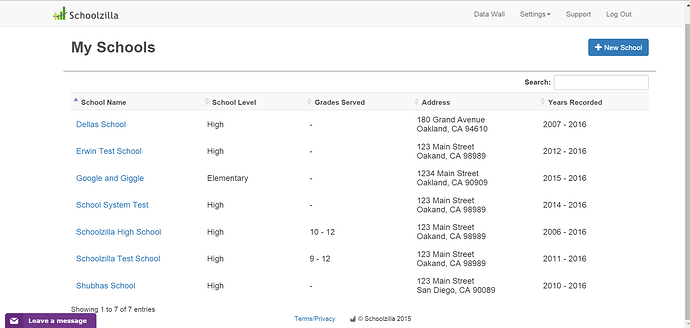 View the School by School Year
To view this data by year, all you do is click on the School, "Schoolzilla High School" in this case, and it will expand out to give you the school's information by year for every year from 2006-07 to 2015-16. You can scroll towards the right on this table to view ALL the required and optional fields.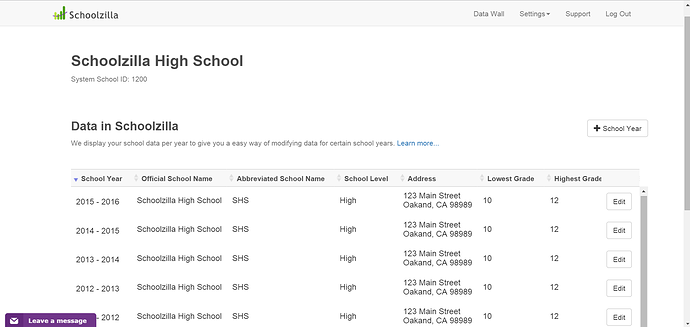 Edit School Information
To edit information about a particular year, click Edit. This will open a form with all the editable information for this school and a school year. Note that everything except System School ID and School Year is editable. This form is also pre-filled with information from that year, so if grade levels only changed for this school year, you can change the grade levels and save the school year.
In the example below, the grades are changed from 10 to 12 to serve 9 to 12 just for the year 2015-16.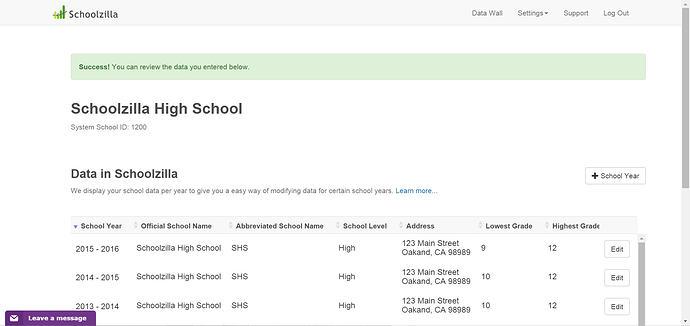 Once you make the updates, save your changes. You should receive a success message, and the changes will reflect on the dashboards within 24 hours.
Frequently Asked Questions
I want to change the name that displays for a school on the Schoolzilla Dashboards. Which field(s) do I need to update?
You will need to update both the Official School Name and School Name Commonly Used for the current school year only.
Which School ID should I use for the System School ID field?
When filling out your school information in My Schools, you need to provide the unique identifier used for each school within your SIS. At Schoolzilla, we call this the school's "System School ID."This is not the same as a school's State School ID.
Here's where to look in your SIS database to find the System School ID for each of the SISes we support.
Aeries:School Code (LOC.CD)
Aspen: Because Aspen's school code is case sensitive, Schoolzilla uses a system-generated value. To add a new school, please contact Schoolzilla Support.
eSchoolPLUS: Building Code (REG_BUILDING.BUILDING)
Focus: School ID (SCHOOLID in Schools file)
Infinite Campus:School Number (School.Number)
PowerSchool:School Number (SCHOOLS.SCHOOL_NUMBER)
Skyward SMS: Entity ID (EntityID from the Schools file)
Synergy:School Code (rev_EPC_SCH.SCHOOL_CODE)
Tyler: Site ID
If you are unsure what to use and don't see your SIS listed above, please contact Schoolzilla Support.
How do I remove a school from the list?
Please contact Schoolzilla Support if you would like to remove a school.
I added a school with the wrong System School ID. How can I fix it?
Please contact Schoolzilla Support if you need to change the System School ID.